How To Increase Online Sales: 14 Things You Can Do To Your Website Right Now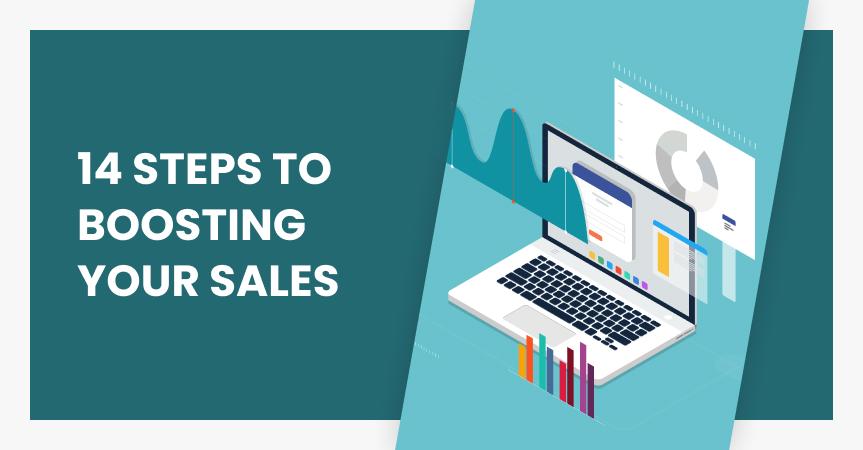 How to increase online sales? From big worldwide chains to small shop owners, that is the question that every entrepreneur would like to have answered. However, when you are a dropshipper, you don't have that many options. If ads bring you a lot of traffic, but there are no sales, that means only one thing: something can be enhanced on your website.
Here you can find a list of 9 things that you can do to your website to increase online sales and raise your conversion rate!
#1 Choose simple & attractive design
Design sells, we all know that. However, we often forget about this when we're talking about the design of our website. Even if you and your friend like your store appearance, it still may not be that attractive. The good thing is that you shouldn't worry about that, these are not the 90s anymore. Lots of research has been made so we can learn what are the key points of successful website designing. Here they are:
Colors are among the most important things in your store. They should be neither too bright nor too dull. For example, red and green work fine together for Christmas sale, however using both these colors actively on your website is not a great idea. These are too bright and will tire any visitor's eyes that your ads will get, so it's better to stick to more neutral colors.
On the other hand, black or grey colored buttons are also not a brilliant idea. They don't seem appealing to your customers, and may even be thought to be inactive. So when picking a color for buttons, make sure they stand out.
We all like beautiful pictures, and the popularity of Instagram & Pinterest only proves the theory. So adding stock photos of girls on white backgrounds to your sliders is not something that will add value to your store. When picking pictures, try those that tell a story. For example, if you sell coffee mugs, forget about boring office workers, and set for beautiful coffee-nic on the bank on the river. You can find some interesting stock photos here.
A logo isn't just something unimportant. This is your face, so it shouldn't be of poor quality, too small or too big. That also doesn't mean you should try to tell the whole story of your business in it. Simplicity works 🙂 Look at such brands as Adidas, Apple, or Unilever. Everyone knows their logos because they are easy to remember.
Visual hierarchy and user guidance
Just look at this picture: what are the first things you set your eyes on?
Right, it's the headline and the button. Why? Because this website designer wanted you to. That's what visual hierarchy and user guidance are about. So make sure your website visitors are looking in the right direction.
#2 Create detailed target audiences
Create detailed target audiences using options available on Facebook. It allows you to target users on Facebook in a great level of detail. Advertisers can target users based on the square footage of their home, the university from which they earned their degree, and even where they plan on going for their next vacation.
Obviously, this degree of specificity may be a little overkill for your buyer personas, but the better you "know" your ideal customers, the more likely they are to respond to carefully crafted messaging tailored specifically to their lives.
Try to come up with new, more detailed audiences every once in a while, so that you continue to stay in touch with them.
#3 Make the checkout easy
Do you remember the feeling when you wanted to subscribe to newsletters but they kept asking you questions about your name, surname, hobbies, city, and so on? Usually, we get bored and don't complete such forms. Your customers are no different 🙂
According to Business Insider, last year, about $4 TRILLION worth of online merchandise was interrupted and resulted in abandoned shopping carts. Just imagine what a big amount of money we're talking about here. So don't let your customers slip away just because you didn't bother to walk in your clients' shoes. Skip ALL unnecessary details like birthday date or preferences, you're hardly going to use this information any time soon. Also, make sure this is possible to add a product to the cart and go to the check out page almost immediately.
A little tip: if you don't know what might be wrong with your checkout process, ask your friends to try it out and give you an honest review. However, if you're an owner of AliDropship store, you can rest assured your checkout pages work fine.
#4 Build trust to encourage the increase in online sales
Nothing inspires trust as much as lots of positive reviews from real customers proved by photos, of course. They may even work better than some professionally written produсt descriptions. So make sure there are reviews (positive, of course) no older than one month on all your products pages. The reviews on your bestseller pages and pages you're going to advertise in turn, should be no older than two weeks.
Try to gain your customers' trust with a compelling 'About Us' page. Write about yourself and the core values of your business.
One more thing: don't try to hide from your visitors. The absence of physical address or contact info looks suspicious and can scare away your potential customers. If you don't wanna display your real physical address, then add a fake one, you can find something like that here.
#5 Don't give your customers too much choice
Remember how you usually scroll through AliExpress while looking for a winning product, find a cool phone case, and there are more than 25 ordinary options for this product on the page? Well, cringe. And you're not alone in this, that is a proven fact that lots of options make us choose nothing. Probably, you don't want your customers to feel the same.
So as we can see, offering more and selling more is not exactly the strategy that leads to success. Make sure your product page offers a reasonable amount of options that doesn't puzzle your customers and gives them the choice they really need.
#6 Deliver problem solutions, not just products
Don't offer your clients a product – offer them a solution to their problem! Write a coherent description of every product you're advertising at least. Make sure your clients understand which product they're buying. Use photos & animated pictures to demonstrate the product in use.
On another note, what do you usually do when you have a question? You head straight to Google to search for the answer. Thus, by making content that provides interesting and relevant information to your customers about your products, you can help people find your ecommerce store through SEO.
Besides describing your products, write about the common challenges or ways to use your products. Search engines prioritize pages that provide consistent content, be sure to write new posts on a regular basis.
Don't let your customers wander through your pages searching for adequate information about the product they found attractive. The information about its size, color, and material is certainly not enough – be creative and you'll see the result.
#7 Use pop-ups and subscription forms
Up to 98% percent of users don't buy when they first visit your website. That's a lot of money spent on advertising, right? However, that doesn't mean we can do nothing about it 🙂
You still can get these visitors back to your website again and again with the help of compelling email marketing. All you need to do is to use a pop-up or subscription form to get this person's email. Whether you're going to offer your clients a special discount or other perks, it will change the sales funnel of your website for a good.
Moreover, that strategy may not only work not on a long-term basis, but also help you with your short term goals. If a visitor is doubting about purchasing, a well-placed offer for 10% of their first order can convince them to buy from you.
#8 Use ad extensions
Ad extensions are a feature that allows you to make your ad bigger with more places to click. It's great because it doesn't cost extra and it increases your ad's click-through rate.
Not bad, right?
Additionally, it can save customers' a step and make it easier and faster for them to find exactly what they're searching for.
#9 Create a sense of urgency to increase impulse online sales
Urgency is a very powerful motivator to act, that's why many online retailers use this strategy to promote their products. Whether you're using time, quantity, or contextual limitations, make sure they don't look fake.
For example, a limited stock doesn't look very pursuing if you're selling socks, however, a time-limited coupon does. So as long as the reason for urgency is believable, it will work. You can find various options to automate the process, for example, Alidropship's Urgency add-on.
#10 Provide convenient payment options
If you're planning to work worldwide, you should be prepared to meet the challenges of this kind. The first thing you should take into account is that your customers need to be able to pay on your site with bank cards. Other options will not look as trustworthy and turn your clients away at the last stage of the checkout process. Paypal and Stripe are the most convenient, but you can learn more about other options for your store here.
#11 Money-back guarantee
One of the most important aspects of the customer is to avoid a potential loss. Most times, this perceived risk is a financial one.
Why should someone purchase products from you? What if they don't work, or the customer doesn't like them? Even small purchases can carry the risk, so overcome this objection from the outset by offering a bulletproof money-back guarantee.
The more risk you remove, the more likely they are to buy from you, so take away anything that could dissuade prospects from buying from you.
#12 Make sure your store is mobile-friendly to increase online sales from all devices
You probably heard that more than 50% of web page views are done through mobile gadgets such as smartphones and tablets. More than a half, yeah, and this tendency is only going to grow. That's why it is vitally important for you to build a website that is mobile optimized.
If you are an owner of a website built by AliDropship, you can be sure that your website is mobile-friendly. However, there are still things that you should do carefully because they can spoil the picture. For example, if you're going to add a subscription form, change the design, or embed a video, check the result in different browsers on your phone.
#13 Use remarketing
Any digital marketing initiative takes a lot of work, time, money and effort to accomplish. And, regardless if you're running a PPC campaign or a Facebook advertising campaign, if you're not using remarketing – you're basically hoping for customers to convert instantly, which is rare in itself.
Remarketing is arguably the single most effective way to increase sales online. Whether you're remarketing your content or a specific time-sensitive sale offer, remarketing is arguably the single most effective way to increase sales online. Not only does remarketing keep your brand at the forefront of customers minds, it also provides would-be customers with numerous additional opportunities to convert.
In today's world, the customer journey can become quite chaotic and sometimes messy. It generally takes at least a day, sometimes even two, across several devices – making remarketing an essential part of digital marketing.
#14 Provide great customer service
Great customer service is essential for customers. According to a recent report, 84% of survey respondents reported that customer service is a key factor when deciding whether to purchase.
So, make sure your website includes a separate page with your contact information. Include a phone number, email address, and chat link if you have one. To help people get answers right away, add an FAQ page to your website.
Now that you have learned how to increase online sales, it's high time to act! Remember that persistence is the key to success, so improving your web site day by day will bring more and more impressive results.