WooCommerce Store Theme: Meet El Greco Woo!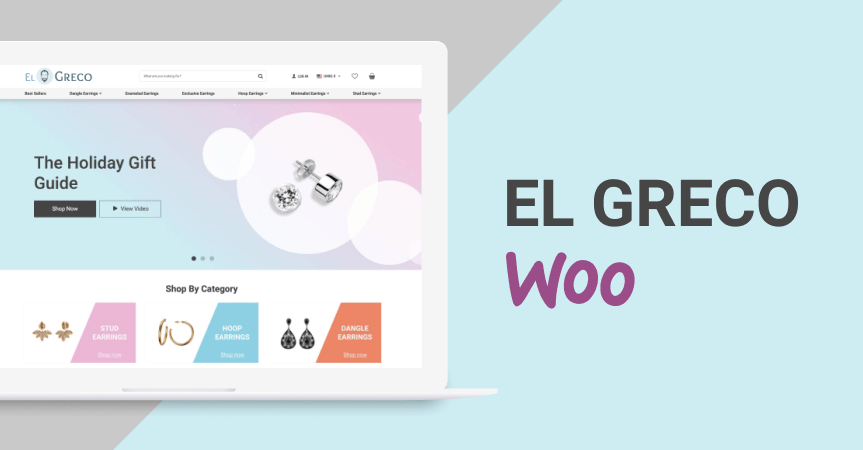 Need a fancy dropshipping store on Woo? Want to make it good-looking and user-friendly? Wish to convert as many visitors into customers as possible? Go for El Greco WooCommerce store theme then!
In practice, the theme of your online store plays a key role in building a positive environment for your store visitors. That's why, if you aim at making the most of your WooCommerce dropshipping store, you'd better pay attention to our brand-new theme – El Greco Woo!
So, how does it look like? Why is it so cool? What makes it a brilliant theme to get high profit margin? This is exactly what we are going to talk about in this article!
Why does El Greco Woo look like a perfect solution to get a money-making online store?
Less than a year ago, we introduced our first Woo theme ever – Da Vinci 2.0 for WooCommerce.
And now we are happy to present to you our second Woo theme that is called El Greco Woo. Here it comes!
So what is so special about El Greco Woo? Let's clear that up right now!
First of all, it would be great to look at this new theme, isn't it? So here is a demo version of a WooCommerce store on El Greco Woo.
Looks great, doesn't it?
And now let's look at it in more detail. Does this theme have anything to brag about?
WooCommerce store: What does the homepage look like?
As soon as we go to the main page of your online store, we see a large banner. What is more, you can add several banners, and your visitors will have an opportunity to switch between them using the respective buttons. In the theme settings, you can enable the auto-rotation option.
The top bar provides you with the fully functioning menu which lets your store visitors switch between the categories of your online store. Moreover, each category provides them with an opportunity to sort items in accordance with particular parameters.
When scrolling the homepage down, you will see such product blocks as best deals, trending products, etc.
Due to such interface, your online store will look well-balanced. Meanwhile, its visitors won't have any problems with navigation, but only enjoy shopping in your online store.
If you scroll the main page down, you may pay attention to the fact that product images already include the discount badges. Moreover, there are both original and discounted prices.
Well, is there anything else that can attract customers better than discounts?
If you keep scrolling, you will see a social proof unit. Due to it, your store visitors will be able to check what your previous customers think about your products and store as a whole.
And you, when shopping online, do you read customer's feedback?
Furthermore, this block also includes a space for Instagram feed!
Do you want to obtain contact details of your potential customers? Are you eager to keep working with them? In that case, the subscription form is exactly what you need!
In fact, having an online store is all about increasing customers' trust. For this, we use such an instrument as blog.
In fact, you can write about anything you want in your blog: product reviews, delivery terms, previous clients' feedback, etc. In practice, blogging will significantly attract your potential customers! What is more, due to your blog, you can become some kind of a guru in a particular topic for your customers!
Additionally, you have an opportunity to add the products to your articles in the 'Shop this story' unit. In that case, it will be a lot easier for your visitors to make a purchase if they like some products from the article.
WooCommerce store: what can you see on product category page?
If you click any category in header, you will see the products from the category chosen. So, what can this page boast?
Number of items in category
Original and discounted prices
Discount rate
Ratings and reviews numbers
So this page looks quite balanced. Besides that, it provides your visitors with enough information to interest them and make them click and order the products.
BTW, if you go to the page with all the products, on the left you will see a nice sidebar. It also facilitates the navigation on your online store.
Then, in the top right corner you can click the side shopping cart. It's available on each page of your online store, except for checkout page and shopping cart itself. So, the side shopping cart lets your customers check their shopping cart content fast and without going to another page.
That's why your potential customers are highly likely to continue shopping in your online store. Sounds tempting, doesn't it?
WooCommerce store: what does a product page contain?
Let's move to a product page. What's so special about it?
As you can see, it includes the following:
Original and discounted prices
Discount rate
Product variations
Popularity on social media
Big 'Add to cart' button
Payment method icons
Information on delivery, tracking, and return
Then, if we scroll down, we will see the following:
Ratings and reviews
Similar products
So, is it enough to let your visitors enjoy shopping in your online store?
How to get El Greco Woo theme?
Well, as you can see our El Greco Woo theme for a WooCommerce store looks like a perfect choice for your dropshipping business. It really provides you not only with a brilliant and neat design, but also with a 100% focus on converting your store visitors into customers.
So, what do you need to get El Greco Woo?
1. First of all, you need to have an online store. Do you have one? Great!
If no, you have an opportunity to order a custom online store!
In that case, you are not supposed to do anything because our experts take over all the questions referred to creating and customizing your online store which is going to be made in accordance with your preferences only.
2. Then, make sure that your store is built with WooCommerce.
Please note that this theme will work on any WooCommerce store, even if you don't use AliDropship WooCommerce Plugin.
3. Finally, go and order El Greco Woo theme!
Please keep in mind that this theme has a flexible customization. So when customizing your theme you can use AliDropship knowledge base. There is all necessary information for this.
What's more, if you want to switch to this theme, you may order theme switching service. And our specialists will do everything for you!
Final thoughts on WooCommerce store theme: El Greco Woo
As we have already found out, our new El Greco Woo theme has all the necessary functions and elements for your online store to provide you with a focus on converting the maximum number of visitors into customers. What's more, your WooCommerce store is going to look perfect with this theme!
Since some people have already been using this theme for their WooCommerce stores, you have an opportunity to see their reviews. Here they are!
Moreover, if ordering El Greco Woo, you can count on the following:
Free theme updates and new features
Free customer support
Wide range of customization options
Multi-step Checkout
Live search
Social media icons and widgets
Built-in cross-sell
Free translation platform
Sounds tempting, doesn't it?
So think no more! Go and get El Greco Woo theme for your online store and make the most of selling online!