Best Products For Dropshipping: 3 Reasons To Sell Space-Themed Items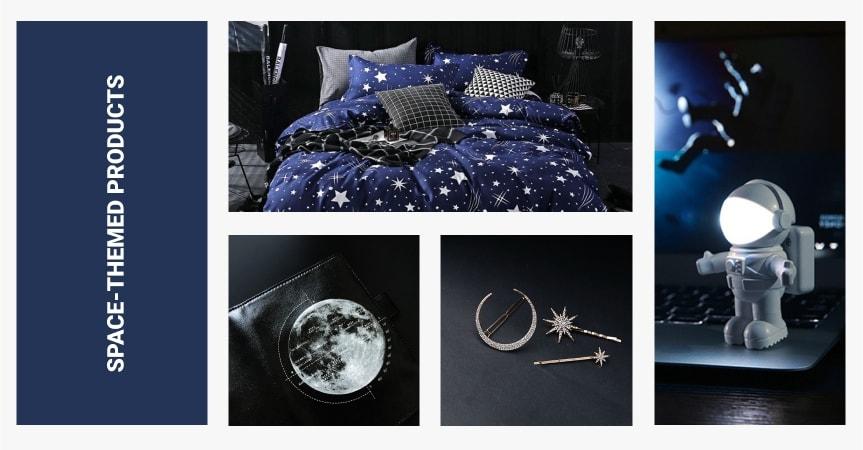 In today's selection of the best products for dropshipping, let's talk about space-themed items!
Space is limitless, and so are your business opportunities.
Really, if you ever decide to choose space-related items as the niche for your dropshipping store, just consider these certain benefits:
Space, planets, galaxies, the Universe – all these subjects are fascinating and interesting to lots of people.
Space remains one of the largest mysteries of the nowadays world, and it's being largely discussed, observed and studied.
This is why it gradually comes to the centre of everyone's attention: scientists, researchers, engineers, writers, musicians, artists and large sections of the general public pay a growing attention to this sphere. For a space-themed store, such an impressive base of already existing fans and followers is certainly a significant bonus.
Thanks to the prompt and detailed coverage in mass media, the newest achievements in the field of space exploration get immediately delivered to a wide audience. Most likely, you've heard of Space X's Crew Dragon mission even if you're not directly involved in any space-related scientific or technological activity. It is easy and fascinating to keep track of the latest events – and even watch them via live streams.
As a result, people stop viewing space as something beyond their reach. Basically, everyone can get some information on any of the interesting subjects. We get more accustomed to space, and step by step, it becomes a small yet important part of our life.
This public interest towards space can't go unseen, and the influence of this sphere becomes more and more obvious. This is why we can witness a boost in the number of video games, TV shows, series, movies (including globally renowned franchises) and other artworks dedicated to space.
In the public perception, space becomes not just some familiar sphere, but also a cool and trendy topic to discuss and explore.
As the result, we easily see these motifs in clothes' prints, room decoration ideas, jewelry designs, etc. Take a look at these Google Trends graphs:
So, are you now convinced this is a promising niche?
(By the way, you can check the potential of any niche with the help of our free automated research tool!)
Best products for dropshipping: Space-themed room décor
Wall stickers for living rooms
Wall décor for children bedrooms
Assorted home décor
Best products for dropshipping: Space-themed textiles
Tapestries
Pillows and pillow cases
Thematic bedding sets
Curtains
Rugs and carpets
Best products for dropshipping: Lifestyle items
Phone cases
Stationery
Sweet and random items
Best products for dropshipping: Space-themed jewelry
Necklaces
Earrings
Hair accessories
Get inspired by this selection of the best products for dropshipping in the space-related niche, and use these ideas for your own successful online store!