10 Excellent Tools For Instagram Marketing: Promote Like A Pro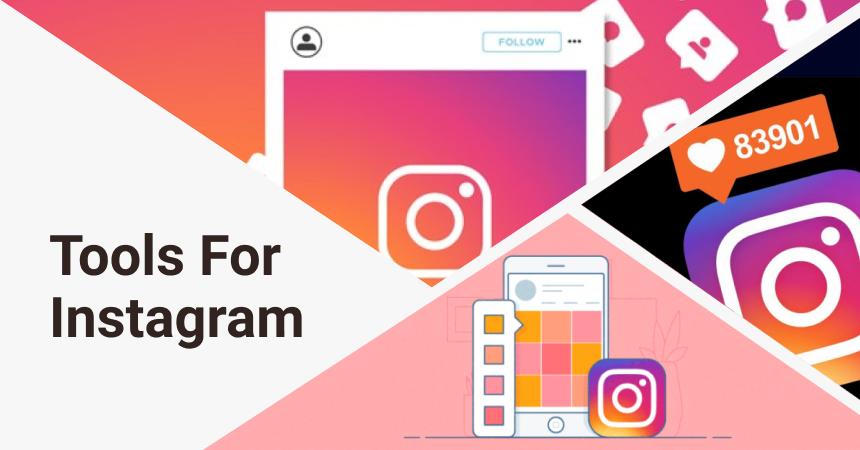 Instagram has proved one of the most effective promotion channels for businesses of different types and sizes including dropshipping. Use these tools for Instagram to improve your performance even further.
Social media is rightfully considered as one of the best tools to promote business. Such platforms as Facebook, Twitter, Pinterest and of course Instagram are used by companies of any size. Dropshipping stores have found them useful too as they cost little but can substantially increase traffic, sales and customer loyalty.
As for Instagram, this social media serves as a perfect marketing platform for promoting 'visual' products, i.e. goods that attract attention with how they look. That's why this tool is a must for businesses dealing with clothing, art objects, fan merchandise and many other categories.
However, since most dropshippers work alone, managing accounts can get really tough. Especially if you promote on more than one social network.
Therefore, to improve and simplify working with Instagram, you can use these tools.
5 best tools for Instagram analytics
You need Instagram analytic tools to monitor your account's performance. It'll show you new trends, the efficiency of your posts, the demographics of your target audience and other data. This information will later help you adjust the strategy or inspire you for new tricks.
1. Iconosquare
Iconosquare is a popular Instagram tool for managing your social accounts and gathering data.
First of all, it can track analytics to give you full information about how your Instagram account performs. The data includes engagement insights, reach, impressions, mentions, audience demographics, etc.
Second, it tracks what users say about a certain industry or your brand. And lastly, you can use it for scheduling your posts, and the platform even provides tips on when to post to achieve maximum results.
Another good thing about this tool is that it can be used for both Instagram and Facebook. So, if you promote your dropshipping business on both social networks (which you probably should), Iconosquare will do just fine.
Pricing:
– 14-days free trial
– €39 / €79 a month
– 25% discount for annual subscription
2. Squarelovin' Instagram Insights
Squarelovin offers Instagram Insights, a free analytics tool to help you gather relevant data over time periods – year, month, week, hour. It tracks likes, followers, post performance and interactions with audience. It can also show you the best time to engage followers. Use this data to optimize your account.
With this tool for Instagram, you can learn about your audience's preferences and interests and monitor your current work.
Pricing:
– Free
3. Crowdfire
Like many other tools for Instagram, Crowdfire combines a number of tools for gathering data and promotion. Moreover, it visualizes analytics as user-friendly charts and diagrams.
In addition, Crowdfire can discover content relevant to your topic so that you could share it with your audience. It also allows users to publish content from blogs, websites, online stores and YouTube. Scheduling posts is also available.
The app does offer a free packet, but you would probably want to use at least the PLUS packet as it offers more tools and options.
Pricing:
– Free / $9.99 / $49.99 / $99.99 a month
– 25% discount for annual subscription
4. Socialbakers' Instagram Performance Quadrant Report
While I probably can't recommend using Socialbakers due to a pretty high price (it has free trial though), you can use its free tools.
Instagram Performance Quadrant Report allows you to compare your account with up to 5 competitors over the last 90 days.
Pricing:
– Free
5. Instagram Insights
Lastly, those who have a business account on Instagram can use its free Instagram Insights to gather basic statistics. It tracks your most popular posts, impressions and reach, as well as the best time to post. You can also compare paid posts to original ones to see whether it was worth it or not.
Although Instagram Insights provides all the necessary data, its interface isn't that friendly and you have to use it from within Instagram.
Pricing:
– Free
Top 5 Instagram Tools for content creation and management
These tools are used to create and manage content on Instagram. Remember, efficient social media promotion requires regular and relevant posts. However, doing it alone can quickly exhaust you, so apps that automate this work are a must.
1. Compfight
Instagram marketing is based on visual content, so one needs to find great photos. Compfight is a free tool for searching images. Furthermore, this service will help you locate both stock and licensed pictures depending on your needs. It works fast and allows you to quickly fill your Instagram feed with excellent images. Besides, it's totally free.
Price:
– Free
2. Sked Social (formerly ScheduGram)
Sked Social is a great Instagram management tool for automating your marketing efforts. It'll save you time by auto-posting on your Facebook, Twitter and Instagram accounts, which is extremely helpful when you use multiple channels.
Moreover, Sked Social integrates with Canva, so you can edit images before posting them.
Price:
– 7-days free trial
– $25 / $75 / $135 / $260 a month
– 16% discount for annual subscription
3. Repost
People on social media platforms share content all the time, and so do businesses. However, companies bear more responsibility and stealing content may hurt their reputation really bad.
Repost mobile app allows you to share content and credit to the original Instagram posts. Simply copy the share-URL and paste it into the app. It'll automatically place the author's username on your new post.
Available on both iOS and Android.
Price:
– Free
4. Shortstack
If your marketing strategy is built around social media, you want not only to promote your products but also create a community of loyal customers. To do that, one needs to offer content stimulating engagement. For example, giveaways.
Shortstack is a tool for creating and running all kinds of contests in different social media including Instagram. It offers over 90 templates and 30 themes and allows you to use custom URLs.
Furthermore, Shortstack provides detailed analytics.
Price:
– Free / $29 / $99 / $199 / $499 a month
– Discounts for annual subscription
5. Gramto
Your set of tools for Instagram should also include one able to automatically follow and unfollow multiple users. For that, use Gramto. You can set a number of criteria, and Gramto will automatically follow users or unfollow them later.
Furthermore, it can do a number of other things like auto-posting, sending direct messages, auto-commenting, etc., which makes it one of the best tools for improving your Instagram presence.
Price:
– 3-days free trial
– $5 / $10 / $20 a month
If you use multiple social media channels, in addition to your tools for Instagram, you may also want to try our Social Rabbit. This add-on will automatically promote your social media accounts by following, liking and even commenting other users' posts.
There are even more tools you could use for Instagram, but these are probably among the most affordable ones. I suggest that you try some of them to see what features you require most of all. After all, what seems like a powerful tool may actually be useless depending on your particular goals.
Moreover, while certain niches are very easy to promote on visually focused Instagram, others will perform worse. In that case, you may want to try other promotion channels. Sometimes, one has to try each of them before one or two show results. So, don't get discouraged even if your first attempts failed and keep experimenting.