A Millennial Entrepreneur's Story: "They Laughed When I Started Dropshipping, Then I Banked $51K in 8 Months!"
Hold onto your hats, readers, because we're about to dive into a story that's nothing short of extraordinary! Ryan, a spirited millennial entrepreneur from the Baltics, didn't just venture into the world of dropshipping; he took it by storm, raking in a staggering $51,004.83 in just 8 months! Now, he's pulling back the curtain, sharing his unique journey and the secrets behind his jaw-dropping success. He's even crafted his own Instagram Shoutouts guide. Ready to get inspired? Let's dive in and hear what Ryan has to spill!
Disclaimer: all the success stories published in AliDropship blog are the results of interviews conducted in the written form. Even though the editors may make some minor changes to the grammar, spelling, and/or punctuation, the respondents' writing styles, views, opinions, stores screenshots and personal photos are left unchanged.
Hi, please introduce yourself!
Hi, my name is Ryan. I am 29 years old.
This is a story about how I made $51,004.83 in 8 months with dropshipping using Instagram Shoutouts while working a full-time job.
My parents taught me to get a good education and a prestige job. I did that but felt that that's not something I want to do all my life. So I started to brainstorm ideas on how I could earn online.
I started with poker but failed, continued with stocks trading – failed again. Then I built an affiliate website and got a couple of hundreds and I still have this website but I don't do much with it.
Then in 2015 or 2016 (don't remember exactly but that was the time Alidropship wasn't live yet), I read my first article about dropshipping. I instantly liked that business model and I started to search for more information about it. And I found Yaros' threads on Digital Point forums. I read both of them from start to finish and as soon as AliDropship went live, I opened my first dropshipping store.
I must admit that the idea of one-time payment delighted me: as a millennial entrepreneur, I didn't get much savings to spend on dropshipping.
How did you begin your millennial entrepreneur journey with dropshipping?
I opened my first store with Alidropship DaVinci theme in August 2016. Got my first sale on October 3. I celebrated that, I was so lucky.
Interestingly, I didn't spend a dollar on marketing! All I did was posting on Facebook groups, on Instagram, Pinterest, and Twitter. I did that manually. In the next few months, I earned close to $1k in sales.
And then I opened 2 more stores.
Don't want to say that that was my mistake, I better like the word 'learning'. But those 2 new stores didn't go well, both generated around $100 in sales in 2 months.
In total, with those 3 stores, I made $3573 in sales in 2017. All with zero spendings on ads, only free methods.
And another store…
At the end of 2017, my wife introduced me with a new store idea about a niche I even didn't know existed and I opened a store for her. The store went pretty well, my wife gained 20k Instagram followers in a few months and that store earned $2409 in 2018 with zero ads spent.
Until July 2018, I have made around $10k in sales with all my 4 stores combined. As I was working a full-time job I haven't spent a dollar from my dropshipping earnings and I thought that I have to move this to another level or I will work my job all my life.
So I researched, read, watched Youtube videos. And I came to thought about the new store and how to promote it. I opened it in July 2018.
Since then I have made more than $50k in revenue and around 40% in profit from that store.

I even have registered my business officially: it's registered as an LLC company in the USA.
How do you promote your stores as a millennial entrepreneur with a limited marketing budget?
I only use Instagram shoutouts. To make them most efficient, I tested various ad types, various influencers, started slowly until I saw sales coming in. I have made an A-Z guide on How I Made $51,004.83 in 8 Months. It covers anything I know about Instagram Shoutouts. It's not that hard, it's much cheaper than Facebook ads and also easier to master.
How long does it take you to manage your stores daily?
Around 2-3 hours. I answer on private messages on Instagram, I arrange new shoutouts, answering e-mails. Few times a week I check for new products on Aliexpress.
How do you deal with difficult customers (if you have any)?
I have them from time to time, but not too often. I try to deal with them in a professional way. As I don't want bad reviews, sometimes I refund even if I think there is no my fault. I was stressed because of problems with customers when I started, but now I take that just as a part of the dropshipping business.
How are you planning to continue your millennial entrepreneur journey?
I think I have to sell a few of my stores as I don't have time to manage them as I would want to.
Then, I will continue to work with my best store and try to get to $100k in sales this year.
I am learning about Facebook and Google ads and I am going to start to test them soon. I have always been the "measure seven times, cut once" type of person, so I will probably start slowly.
And in the future, I would like to open my own brand. But that's more like a dream at the moment.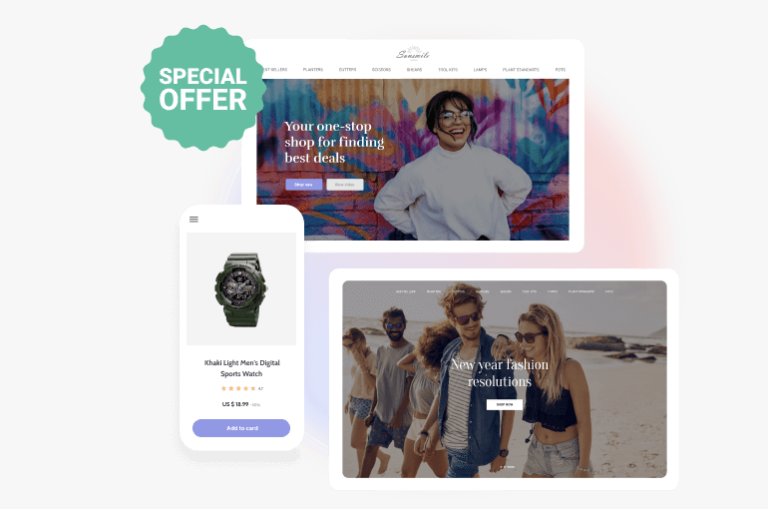 We are very grateful to Ryan for sharing this amazing and honest business journey filled with ups and downs! We hope it will encourage other millennial entrepreneurs to try themselves in dropshipping, too — and tell about their experiences as well!