Is AliExpress Safe? A Short Guide On How To Buy On AliExpress With No Worries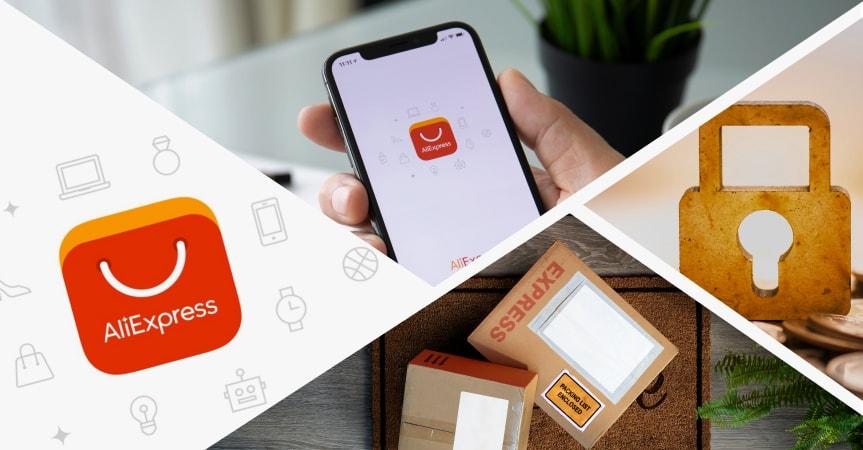 Is AliExpress safe? Is it dangerous to pay with a credit card on the site and is it even legal? Such questions are quite common. In this article, I'll try to answer them.
While AliExpress remains one of the most popular online retail platforms in the world, a lot of customers avoid ordering products from it. Reasons vary from low quality expectations to legislation issues. Let's find out whether these concerns are real or myths.
What is AliExpress?
AliExpress is an online retail platform where individual businesses sell their goods to customers from all over the world. It's an Asian analog of Amazon.
Where is AliExpress located? Since AliExpress operates only with Chinese manufacturers and retailers, you could say it's located in China.
Is AliExpress legit?
If you browse AliExpress looking for the same products you see in brick-and-mortar stores of your country or in other online shops, you'll notice that the prices there are often much lower. But why is AliExpress so cheap?
The fact that many goods on this platform are more affordable (especially when compared to prices in Europe or the US) makes people worried. Is AliExpress legal? Can you get scammed on AliExpress?
AliExpress is totally legit. The site does exist, its escrow system does work, and buyers do get their products. In case your package gets damaged or lost, you can get a refund as AliExpress has a strong buyer protection system.
As for the prices, they're lower than in most other countries due to cheaper labor costs in China. Besides, you can often buy goods on AliExpress directly from manufacturers or wholesalers.
Is AliExpress safe to use a credit/debit card?
Credit and debit cards are among the most convenient payment methods used by many online retailers including AliExpress. But it safe to use a credit card on AliExpress?
Yes, it is generally safe to use credit and debit cards for shopping on AliExpress. Many people are afraid that their bank card data can be stolen by fraudsters. You've probably seen how hackers do it in movies. However, in real life, stealing someone's pin-code isn't that simple, and AliExpress payment safety is just as good as that on Amazon or any other large online retail platform.
Besides, today most banks use the 3D Secure system to protect card holders from potential frauds. When shopping online, you have to confirm any transaction with an SMS password, which makes the experience even safer.
Still, if you want to minimize the risks, you can use another bank card specifically for shopping online. Simply deposit the minimum sum you need before ordering something. In case fraudsters somehow steal the money, they won't get to your main card where you keep most of your savings. Virtual credit cards are another option for one-time purchases.
Is AliExpress reliable?
Is it safe to buy from AliExpress in terms of products quality or guarantees? Most AliExpress sellers are trustworthy and safe to buy from. However, a poor quality of goods and customer service is a common bias that causes some buyers to suppose the platform is unreliable.
Nevertheless, when ordering from AliExpress, follow these simple tips and you will be able to easily locate high-quality items and customer-oriented sellers.
Pay attention to the seller's rating. If the percentage of positive feedback exceeds 95%, it's a good sign.
Check out the number of followers the seller has. If many people decided to subscribe, they must be happy with the quality of the product and service.
Look at the average product score: make sure the item has 4+ stars.
Check how many people have bought the product. Higher number indicates high quality and reliability.
Make sure the product has many customer reviews.
After that, browse these reviews and pay special attention to those that contain photos of the product made by customers. This is probably the most reliable information about the real quality of the given item you can get.
If everything is fine, you're most likely dealing with a reliable seller. Even if something goes wrong, you can open a dispute and ask for a refund. A good seller will always return the money with no questions asked.
So, is AliExpress trustworthy? When you stick to these tips, it's pretty much safe.
Is AliExpress safe to use in my country?
AliExpress ships goods to nearly every country in the world (to more than 250 destinations, to be precise). Still, there are some aspects you need to consider in this regard.
First of all, the farther from China your target country is, the longer shipping times get. The good news is, AliExpress sellers have multiple warehouses outside of China, so you can find products that can be delivered from the nearest or even your own country.
This will make delivery considerably faster.
Another issue that may arise is your target country's legislation and custom duties. Certain types of products may be banned for import in your country or you may have to pay additional fees of which the seller couldn't warn you. But this applies to any international online retailer.
Is AliExpress safe for shopping?
Some people do buy a thing or two on AliExpress (for the sake of low prices or unique products), but avoid making regular purchases fearing their expectations won't be met. There is no valid reason for it, actually!
Did you know that AliExpress sellers don't receive your money immediately after you place your order? That's right – the money is kept at AliExpress account until you receive your package and confirm you're satisfied with its contents and quality. The seller only gets paid after that. And if you're not happy with the order for some reason, you can ask for a full refund confidently.
Many people buy from AliExpress regularly and enjoy a positive experience in most cases. It's a bit unfair to ask whether AliExpress is safe to order from since there are different sellers there: some of them are totally reliable and offer great customer service while others could do much better.
Simply stick to the tips I mentioned above and don't be greedy. If a seller offers something that seems too cheap, you'd better stay away from such stores.
Is AliExpress safe for dropshipping?
Since this Asian platform has hundreds of thousands of goods at low prices, AliExpress dropshipping is very profitable. Is it safe?
For a seller, a dropshipping entrepreneur is the same as any other customer ordering an item for personal use. Therefore, the same rules can be applied: look for suppliers with a high rating and a large number of orders, check customer reviews and photos, and don't forget to write a welcome letter to your first-time supplier explaining you're dropshipping.
It will be highly convenient for you to pick products for dropshipping from this manually edited database. All these goods come from reliable AliExpress sellers and have pre-edited product pages, so you can import them to your online store and start selling immediately. Best part? Buyers of AliDropship plugin get 50 imports for free!
AliExpress and coronavirus outbreak
Since COVID-19 originated from China, a lot of people are reluctant to order products from AliExpress or Chinese manufacturers in general. However, these fears are over-exaggerated.
The coronavirus is airborne, which means it is transmitted through direct contact with bodily fluids of an infected person. While the virus can still get to a parcel surface, it can't survive there for a long time, according to the representative of WHO.
Shipping goods from China to other countries (even the ones bordering it) takes at least several days. COVID-19 is a relatively fragile type of virus which requires a carrier to survive. According to WHO, if the virus gets on a surface, the environment will inactivate it within several hours or days. For instance, if the air temperature exceeds 20°C (68°F), COVID-19 will die within an hour.
Since shipping from China usually takes much longer, ordering goods from AliExpress is safe. Moreover, some countries disinfect imported goods at the customs before sending them to addressees – just to make sure.
As for doing business with Chinese manufacturers, right now the companies are getting back to work.
Here you can learn more about how coronavirus influences AliExpress and dropshipping business associated with it.
As you can see, AliExpress is safe to buy from since it provides secure payment options and lots of local sellers are reliable. Therefore, it can also serve as a platform to find suppliers for dropshipping business while AliDropship plugin is the perfect tool to start your own online store.