Using Snapchat For Business Promotion And Audience Engagement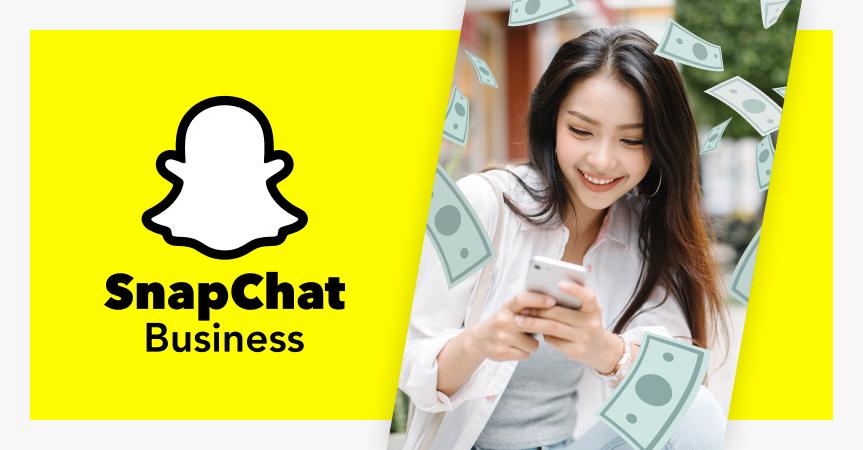 Social media marketing is an essential part of any eCommerce promotion. If your target audience is young and energetic, you may want to try using Snapchat for business. This unusual platform can become a valuable source of customers for your dropshipping store.
Simple, straightforward advertising cannot impress any more. Successful promotion requires a combination of multiple channels and methods that include not only advertising but also engagement. The latter allows you to increase brand awareness and build closer relationships with your audience.
As a result, promoting on social media has become a must for almost any company. Moreover, it's especially important for small businesses as they offer affordable or even free promotion opportunities.
Most dropshipping entrepreneurs use Facebook and Instagram to attract clients, but in this article, we will talk about using Snapchat.
What does Snapchat do?
To be precise, Snapchat is a mobile application that allows you to send snaps (photos/videos) or short messages to other people. However, this communication component makes Snapchat similar to social media, meaning one can easily use Snapchat for business.
Snapchat users can share two types of content – photos and videos.
You can either upload previously taken pictures or make new ones right from the app and edit them. The app also allows you to shoot and share videos as long as they're not longer than 10 seconds.
Snapchat offers a number of most fascinating editing tools, including filters and lenses. In fact, it's actually augmented reality technology. I'm sure you've seen some of those funny looking people with dog's ears. This is why people like Snapchat! It's so much fun to create weird and humorous photos and videos and send them to friends.
So, when you send a photo or video to someone, it's called a snap. Unopened snaps will last for 30 days and then expire. After opening one, Snapchat users can replay it once more. After that, it'll be removed from servers.
Instead of sending a snap, one can also create Snapchat stories, i.e. images and videos published on your profile. These can be seen by all your followers or any user depending on your privacy settings and will expire in 24 hours after publication.
And finally, one can send private messages to other users.
What businesses can use Snapchat?
According to Omnicore, 3 of 4 Snapchat users are under 34 years old. More than half of them use the platform every day.
As you can see, its audience is quite young, and you should take it into account when deciding to use Snapchat to promote your business.
In other words, if your dropshipping store is targeted at millennials, it's a good choice. However, if you don't expect your dropshipping niche to interest younger audience, Snapchat marketing may not work.
On the other hand, it won't hurt to try.
How to use Snapchat for business
In my opinion, one of the things that make Snapchat unique in terms of promotion is that its content feels very 'homemade'. In a good sense – because that's your chance to show your business in its 'wear-at-home clothing', so to say.
Now, let's find out how social media marketers promote their products or services in Snapchat.
Post relevant snaps
Just like when promoting on other social media, you want to provide your Snapchat followers with relevant content. In dropshipping business, it's very important to stick to a certain niche you like. So, that's your main topic!
Share your thoughts, tell subscribers about certain events, make funny snaps, etc. Don't forget that most Snapchat users expect to receive entertaining content, so being silly is totally Ok here.
You can also raise more serious topics such as charity, religion, politics, parenthood and so on. However, one should be very careful as these are delicate.
Make use of Snapchat Stories
While regular snaps can be seen only twice, the pictures and videos you snap into the Stories section will remain there for 24 hours. Your followers can see and browse these snaps in their feeds. Therefore, this is the best way to engage many people at once.
However, mind how often you post. Bombing subscribers with content doesn't really work no matter what social media you use. Updating your Stories two or three times a day should be enough.
Events promotion
Any businesses nowadays try to say active by organizing all kinds of events. It goes to eCommerce as well.
If there's something new going on in your online store, let your followers know. Tell them about a new collection of products, upcoming sales, new articles in your blog, seasonal promotions, etc.
Product promotion
One can also use Snapchat for business by promoting a single product. It works especially well if you already have a number of loyal followers who are always happy to hear about your new offer.
Furthermore, you can even advertise a product that's not released yet! Sometimes brands play on their audience's anticipation to fire up the interest and even keep the actual product a secret until it's time.
Organize contests
One of the best things you can do to engage with your subscribers is to exploit user generated content. Ask your customers to take selfies with your products, take part in a contest and give a prize to the winner – a free product or a discount.
It'll motivate users to actively participate and increase your brand awareness among those who are yet to become your clients.
Offer discounts, coupons and promo codes
To increase sales, brands often use discounts, and Snapchat can become a great channel for distributing coupons and promo codes your customers can use at the checkout.
However, it's not a good idea to turn such snaps into purely commercial ads. So, try making such announcements entertaining, funny or at least bright and colorful.
Using Snapchat paid advertising
Like most other social networks, Snapchat offers a number of paid options to promote your business. To use them, one must register a business account on Snapchat and create an advertising campaign. I suggest using the 'Advanced Create' option because it allows you to tune the campaign more carefully.
Here you can choose the objective of you campaign, among which you will find Catalog Sales option, which is a perfect choice for online retailers.
After that, you are to create one of four Snapchat ads types.
Single image / video
Story ads
Collection Ads
Filter
Sponsored filters and lenses
Lastly, in your Snapchat account, you can create custom made filters or lenses. It is possible to make them based on standard Snapchat tools or create a completely new one, though this may require certain designer skills.
Such filters and lenses are great for engaging with your followers and inspiring them to interact with your brand. These are considered the most effective promotion methods on Snapchat.
Some brands also use Snapchat geofilters. Those are sponsored filters that can be used by Snapchatters only in certain locations. Although it's really hard to come up with a way to use them for purely online stores, if you can do it, that'll be great!
Use Snapchat for business if you are targeted at young adults and want to engage with your audience. If you haven't started your dropshipping business yet, don't forget to check out our FREE GUIDE!