$10,900+ Daily Revenue: That's How You Make Money With Ecommerce In Europe!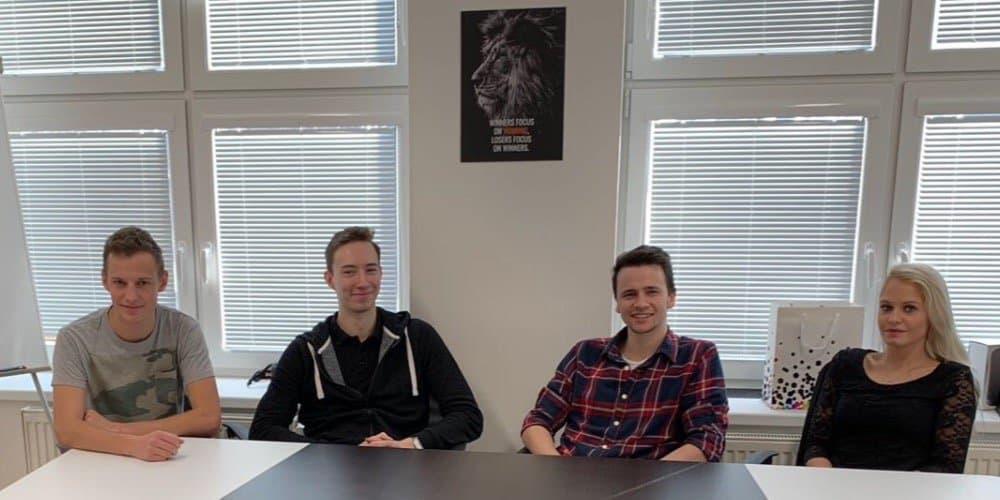 How to make money with eCommerce in Europe? These guys hacked the system and got an easy answer!
Today, we're sharing a very special success story. These entrepreneurs combine their full-time job in a marketing agency with a dropshipping business, and run a bunch of co-owned stores that make amazing profits.
One of the agency members, David Puchýř, shared this inspirational story on Medium.com – we couldn't pass it by!
So, here's an in-depth interview that uncovers the secret of how to make money with eCommerce in Europe!
Disclaimer: all the success stories published in AliDropship blog are the results of interviews conducted in the written form. Even though the editors may make some minor changes to the grammar, spelling, and/or punctuation, the respondents' writing styles, views, opinions, stores screenshots and personal photos are left unchanged.
Hi, please introduce yourself!
Hi! I'm David, and I work for the Upcomers marketing agency in Czech Republic. We are a team of young people with the focus on performance marketing.
In the meantime, we start an ecommerce business with dropshipping all together – that's what my story is all about.
What was your previous experience of making money with eCommerce?
We had a solid previous experiences with eСommerce, but we have been running local shops with warehouses (and yeah, with high logistic expenses).
Anyway, we started with dropshipping one year ago and our first shop was not bad, but total revenues was not so good.
Why did you decide to try the dropshipping business model?
Dropshipping has 3 advantages that changes the status quo.
Firstly, you don't need any warehouse and an employee for fulfilling orders.
Secondly, you are not limited by your cashflow, you don't have to order and "wait" till some customer buy your goods.
And the last one – you can import more than million products from Aliexpress without stocking them in!
Basically, you are selling goods to customers by clicking to "Place order automatically" lol.
How did you learn about AliDropship solutions, and which ones of them do you use?
We have been looking for really anything that would allow:
Product import
Orders auto filling
Compatibility with Woocommerce
AliDropship Woo plugin was the best solution we found in a year of the searches.
So, now we use WordPress with WooCommerce Add-on due to its simplicity. We also like that it's the cheapest way to manage a successful dropshipping store. All you need is buy a online store template, make some custom design edits, buy Alidropship Woo and provide a great customer care.
How much money you made with eCommerce?
We went from 0 to $156.576,82 monthly revenue with a very positive ROI (return on investment).
Our current ROI is 8, so, from every invested $1 we got 8$ back WITHIN 3 MONTHS.
The report from Google Data Studio also shows another metrics you could be interested in. There is small difference between revenue in Google Analytics and dashboard in WooCommerce because Google Analytics data a bit fragmentary.
As you can see below, our September revenue was 2,534,752 CZK (Czech koruny) – that's about $103,249.48.
And here's our best day:
On September, 7th, we had 480 sales (while our average daily number of orders is 152), and our gross sales revenue was 249,190 CZK – or $10,918.26.
Then, we had to pause all advertisements on Facebook and Google Ads due to inability to fulfill orders to our customers.
More than 50 customers were calling in this single day who were making "phone orders" – you can't see this data because it's not included in the chart.
What's your product strategy?
We had one employee who was adding TOP products – for example, the items that have thousands of orders from AliExpress. We decided to focus on the products that meet the following criteria:
More than 1000 orders on Aliexpress
A rating higher than 94%
The seller's period of activity on AliExpress is not less than 2 years
The product reviews and customer photos are only left by from happy buyers
For pricing, we used a simple formula:
Item cost X 1,7
So, the margin is only 70%.
We may also apply additional fees on checkout, for example, shipping and packing fees.
When did your first sale happen?
The first one happened immediately after the launch of Facebook Ads and Google Shopping Ads campaigns.
How do you promote your eCommerce business?
Really good question. There are lots of marketing channels allowing you get lots of sales, but there are only few channels with a high return on investment.
We are primary focusing on:
Google dynamic search Ads + Google Shopping + Google Brand Ads
Retargeting channels like Criteo or RTB House
How much time does it take you every day to manage your online stores?
We have two employees to provide customer care to creating new ads. On average, they spend about an hour every day on these tasks.
How do you deal with difficult customers?
If anything is wrong with the order, we simply provide a full refund of the paid money.
To make money with eCommerce in Europe, did you register your online business officially?
Yes, we are running all the dropshipping stores as a legal entity that pays taxes in our country.
How has your life changed? What are your plans for the future?
We started to 'dream big' – now, we are planning to try built something big like Wish, even though there are really lots of technical details to solve.
Also, we're about building small dropshipping shops in others European countries (Hungary, Poland, Slovakia, Germany, etc.). We want to create a portfolio of dropshipping stores that sell different kind of stuffs. For example, a niche shop designed only for home and garden products, another shop made only for fashion articles, etc. We will definitely use AliDropship plugin in them as well because we didn't find any better alternatives.
What can you advise our readers – those who already run their stores and those who didn't start the eCommerce business yet?
If I could go back a year, I would definitely start with AliDropship Woo and I would buy a nice template, for example Woodmart or Flatsome.
Also, I want to mention that running and creating performance Ads is really hard. I would recommend to hire specialists to set up the campaigns. You will learn a lot from from this outsourced work, and then you will be able to use the expert knowledge to create better campaigns and save lots of money.
And oh – don't forget about customer service. It's the most important thing.
Now, you know it in detail how to make money with eCommerce in Europe! We hope that the positive experience of the Upcomers team will motivate you to launch your own venture, too!