Best Things To Sell Online To Make Money This Autumn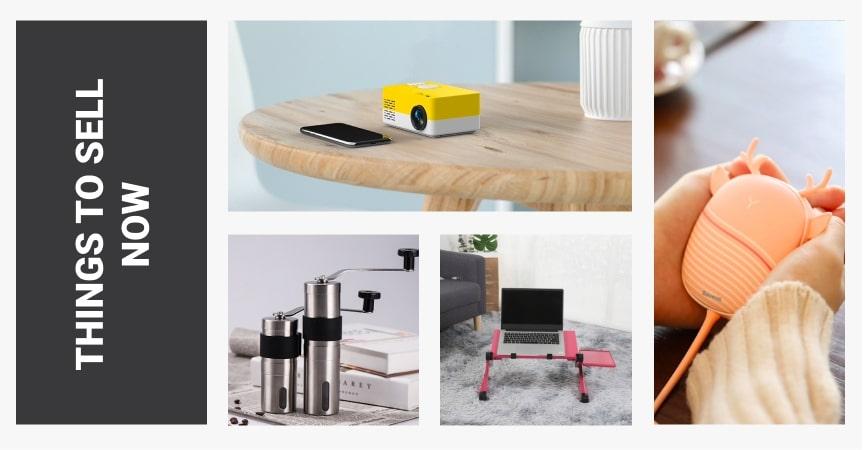 Wondering what are the best things to sell online to make money in these crazy times? We picked a number of ideas that can make a difference for both you and your customers. Read below what you can offer your audience right now – and what message you can convey with each of these ideas.
As parts of the world settle into what should be cooler weather and browner foliage, it's time to change up your surroundings and home or workspace decor to reflect a new vibe, season, and time of productivity and convenient living. As parts of the world are starting to see a resurgence in COVID-19 infections with talks of a potential second lockdown though, we may see another increase in demand for at-home items that add comfort and convenience.
If you're seeking for new items to add to your online store that are fall-appropriate or relevant to easier stay-at-home living, here are 12 current trending items to consider!
Best things to sell online to make money right now: home decor elements
Decorative Pumpkins
You can't say it's officially fall without seeing some pumpkins. They're the one crop that not only represents the season of brown leaves and cooling weather, but they're also the star of autumn holidays Halloween and Thanksgiving.
So get festive with your work cubicle, at-home office, or front porch with some decorative pumpkins. The upside to these? They won't rot or go bad or get attacked by animals or rodents.
Google Trends shows that every fall, demand for pumpkin decorations peaks, which is normal.
Photo LED Light Strings
Relive fun moments with friends and family with bright, cheery LED lights that illuminate your memories. Stringed lights that feature clothespins for pinning polaroid print-outs are perfect for sprucing up any dorm room or bedroom work desk space. The warm glow of the light brings comfort to anyone far away from home or locked into hectic deadlines, all as the weather outside starts to get cooler. If a lockdown occurs, the photos one can hang up can at least provide a sense of comfort and connection to loved ones far away.
Web trends reveal a spike in searches for such photo-light strings, especially as late summer and fall roll around. This tends to coincide with students going back to dorms and universities.
Seasonal String Lights
Yes, more lights. Because fall is one of the biggest decor-centered seasons. Spice up that dull cubicle at work or buffet table in the hallway with some fun Halloween- and Christmas-centered lights. From skeleton heads to snowflakes and Santa figures, bring a spooky or wintery vibe into any space with just a string of bright decorative lights. Due to the ongoing pandemic, many public gatherings for holidays have been cancelled, but it doesn't mean the festive spirit is gone.
Unsurprisingly, we see spikes for holiday-themed lights ("Halloween lights" is shown here as a search term) every October. And November and December surely see demand for Thanksgiving and Christmas lighting as well.
Autumn Wreaths
More decor! We want ALL the fall things, right? From home front door to classroom entrance, the feeling of autumn doesn't seem to hit until you feel that first slight chill in the air….or until you see a festive wreath of maple leaves, berries, pinecones, and pumpkins. It's no surprise that such an item trends during the fall.
Historically, autumn wreaths also peak in search queries in October.
Best things to sell online to make money right now: warming and comforting items
Autumn Coats
As temperatures cool, the plaids and checkers all seem to come out. Discover fall staples such as coats and blazers, which are obvious must-sells of the season, especially if you own a dropshipping store centered on fashion for men or women. If you need to dress up for Zoom calls or want to look a bit more presentable for class (or a tele interview), look polished and professional with a sleek coat.
You can see here that search terms peak in October and November as wind and chill settle in. Be sure to offer the latest styles and looks for a selection shoppers won't be able to resist.
Portable Heaters
As rain and snow potentially hit some parts of the world during the autumn season, it's important to remember that aside from endless pumpkin spice lattes and chai teas, heaters are also a popular way for people to stay warm. Portable warmers such as the above are great sellers because of their small size. They fit right into the palms of your hands for warmth but also slip right into coat or jacket pockets for added comfort. Whether you're taking an afternoon break from work for some fresh air or huddled in the corner of your room for a 2pm lecture, warm up conveniently with this hand-held device.
Google Trends shows here that starting from late September, there is usually a steady increase in searches by online users for portable heaters, with a peak in mid-November.
Ring Scarf
Autumn would not be autumn without a scarf mentioned somewhere, right? This knitted ring scarf comes in a myriad of colors and patterns – and it's unisex – meaning it works perfectly for men and women alike. Snuggle against wind chills, rain, and snow with this must-have accessory that's as stylish as it is functional.
How does a ring scarf fare on Google Trends? It definitely has its search peaks, with search highs in September and November. Be sure to add this unique scarf that keeps the warm in to your store if you're centered on fashion or are a general home goods store that carries multiple item categories.
Best things to sell online to make money in 2020: home mood setters
Coffee Grinder
Okay, okay. Coffee isn't just a fall thing. But a hot cup of Joe hits the spot well when temperatures dip – plus, with seasonal favorites like pumpkin and mint varieties peaking in popularity in the colder months, being able to recreate your favorite Starbucks order at home is something many caffeine lovers yearn to be able to do.
This fancy coffee grinder makes a great gift during fall birthdays or holidays for gourmet beverage-making at home. And if you're going to be working from home, you'll love the luxury of having your own grinder on all for freshly-ground coffee.
So as expected, since coffee is a year-round beverage choice, we see consistent search queries for it throughout the months. But we can even see here (at least for 2019), that search terms peaked around late November. This may speak towards coffee grinders being popular Cyber Monday or Christmas gifts, so this fall – if home goods and kitchen appliances is your niche, don't miss out on this java-making must have!
LED Movie Projector
When it rains outside or a snowstorm hits, you're gonna be stuck inside. And if another serious wave of coronavirus hits for the fall, you'll probably be staying inside the house for a longer time. Swiping and scrolling on your phone or tablet can only provide so much entertainment, right? Gather family (or those you are quarantining with) around a fire or lit-up candles and have movie time – at home. HDMI projectors that are laptop- and phone-compatible have become increasingly popular over the years and make awesome holiday gifts during the fall.
Unsurprisingly, Google Trends also shows a spike in searches for these kinds of projectors during the month of November. This is consistent with Black Friday and Christmas shopping, and you can offer such an awesome gift on your retail site for a one-of-a-kind item that's not easily found in stores.
LED Tea Light Candles
Yes, you can have the real thing….but you can also have a safer, non-flammable option. Tea light candles are great because they are battery-operated and provide the same warm glow of real handles without the worry of things catching on fire. Create intimate dinner settings for a significant other or just add ambience to the home – and don't stress about your table runner burning or catching ash of your little ones accidentally burning themselves.
Plus – these LED candles also work great for lighting up carved pumpkins for Halloween or for creating warm fall designs on the porch or a hallway, all without needing constant monitoring of the candle flame.
Are candles hot in the fall? You betcha. Google Trends show a gradual increase in search queries for these mood-boosters from September up into December. Yes, they aren't specifically for LED-powered candles or tea lights, but the fact that candles trend during this time should be a great indicator of what people search for in the cooler months. Especially if there is a lockdown and everyone is stuck inside, you can create a positive, warm vibe throughout the house or apartment. Home goods stores and spa/well-being or holiday-related and party-decor stores, get your engines ready and be sure to add some sort of candles to your store for the fall 2020 season.
Best things to sell online to make money in 2020: home tech
USB Charging Cable
Work-from-home. School-from-home. Much of the world has been living life remotely during 2020. This fall, many people are continuing that trend for the year. Whether or not the world descends into a second lockdown or not, USB charging cords are always in demand. We're always plugged into devices and need them more than ever as we work and learn from home.
Be sure to add something new and fresh (and hard to find in stores) such as these light-up USB charger cords with fully-rotating heads, available for many device types such as Android and iOS.
If you look historically at search trends, you can see that USB charging cables have surged in searches over the past 16 years. This is no surprise considering the tech and smartphone boom happened during this past decade. USB charging cords are always in demand, making them a strong pick for any electronics or general home-solutions store.
Laptop Tray
Whether you are jumping onto a call (but want to stay sitting in bed) or just browsing YouTube snuggled on the couch, discover the convenience of the mobile work/leisure life with this portable laptop tray.
Google Trends also shows that throughout this year, demand for laptop trays has generally gone in an upward direction. This likely coincides with the ups and downs this year with working and learning from home. It's possible this kind of item will continue to be in demand as most people continue to work remotely. Plus, this kind of tray will make a great versatile present for the fall holidays!
SUMMARY: Fall is all about warmth and creating an inviting inside atmosphere as temperatures fall. It's no surprise to see winter wear and autumn-related decor trend during the fall months, so knowing what is trending now can help you get a head start on merchandising your online store. Although the impact of COVID-19 is still ongoing, getting ready with certain items that create comfort and ease of working or learning from home can help boost sales. Aren't these the best items to sell online to make money and benefit your clients – what'd you say?